---
Horrorcore Pioneer: Koopsta Knicca
Koopsta Knicca, born Robert Cooper Phillips, is an underrated rapper in Memphis hip-hop, a genre he helped shape and define. His affiliation with the iconic group Three 6 Mafia and the rap collective Da Mafia 6ix propelled him to the forefront of the scene, cementing his place in the annals of hip-hop history. Amidst other members of Triple 6, he is often forgotten. But Koopsta Knicca shouldn't be lost in discussing Three 6 Mafia's influential sound.
The Rise of Three 6 Mafia: Koopsta Knicca's Formative Years
Born on April 27, 1975, in Memphis, Tennessee, details of Koopsta Knicca's early life are virtually non-existent.
Scant Koopsta Knicca's biographical details exist. Wikipedia doesn't even have a page for Da Devil's Playground. Or any of his albums. Aside from his tragic death, he rarely received press coverage.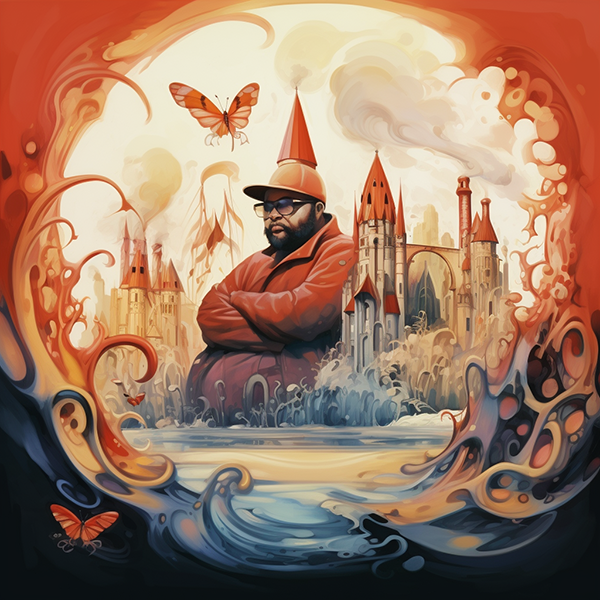 He did a few interviews in his two decade+ career. Koopsta delved deep into one aspect of his life. In an interview with an online radio show *, he talks about the meaning behind one of his latest songs, "Bipolar," from 2013's Aliens vs. Humans (The Mixtape). He details his struggles with Bipolar disorder. Explaining that the condition caused him to spiral downward, leading to confrontations with the law. Repeat offender. The man known for spitting hypnotic, cycling flows about terror and torture was himself trapped in a cycle, just as terrible, just as frightening as his best songs.
*(Yes, online radio. Not a podcast. Not even on a dying local radio station. And said online radio show is banned in germany, for some reason.)

Addendum
Koopsta Knicca was not just another member of Three 6 Mafia; he was a unique voice within the group. His intense and powerful delivery blended impeccably with the group's raw and ominous production.
His journey into hip-hop began with the Three 6 Mafia, a group that would go on to redefine the Memphis rap scene. Their meteoric rise to fame was marked by albums such as Mystic Stylez (1995), Most Known Unknown (2005), and When the Smoke Clears: Sixty 6, Sixty 1 (2000).
Explore: Three 6 Mafia Members
Unique Flow: Exploring Koopsta Knicca's Distinctive Style
Koopsta Knicca's rap style was unlike any other. His hypnotic delivery and his exploration of horrorcore and occult themes created a dark cloud. His melodic approach, often compared to Lord Infamous, felt slick but dangerous. Listen to an example:
---
The Solo Odyessy: Koopsta Knicca's Independent Pursuits
After parting ways with Three 6 Mafia in 2000, Koopsta Knicca embarked on a successful solo career. His albums, including Da Devil's Playground and De Inevitable, received acclaim, with fans and critics praising his innovative style and lyrical prowess. However, the album failed to chart.
Ready to dive deeper into Memphis rap? Check out Memphis Rap | The Groups and Rappers in the 80s and 90s
The Magnum Opus: A Closer Look at Da Devil's Playground
Koopsta Knicca's solo career was marked by several standout projects, but none more so than Da Devil's Playground. This album, released in the late 90s, stands as a testament to his unique style and innovative approach to hip-hop. Check out "Robbers" for another taste of Koopsta's style:
---
Koopsta Knicca and his Unforgettable Impact
Koopsta Knicca's journey as a pioneering figure in Memphis hip-hop is nothing short of remarkable. His unique style, significant contributions, and the lasting impact he left on the genre are worthy of celebration. I encourage readers to delve into his discography (particularly Da Devil's Playground) and continue to appreciate his musical legacy.
Koopsta Knicca passed away on October 9, 2015, at the age of 40 due to complications from a stroke. His loss was deeply felt in the hip-hop community, but his music and influence live on, continuing to inspire and shape the genre he loved.
Koopsta Knicca FAQs
Q: What is horrorcore rap?
Q: How did Koopsta Knicca contribute to horrorcore rap?

A: Koopsta Knicca was instrumental in shaping horrorcore rap within the Memphis scene. His atmospheric production and occult-themed lyrics added a unique dimension to the genre.

Q: What are some other notable Horrorcore artists?
Q: What are some recommended Koopsta Knicca songs to start with?

A: To get a taste of Koopsta Knicca's style, start with songs like "Torture Chamber," "Crucifix," "Blow a N***a's Ass Off," and "Smokin' on a Junt."

Q: What happened to Lord Infamous and Koopsta Knicca?

A: Both Lord Infamous and Koopsta Knicca, key members of the influential group Three 6 Mafia, unfortunately, passed away. Lord Infamous, whose real name was Ricky T. Dunigan, died from a heart attack in 2013. Koopsta Knicca, born as Robert Cooper Phillips, passed away in 2015 due to complications from a stroke.

Q: How old was Koopsta Knicca when he died?

A: Koopsta Knicca was 40 years old at the time of his death in 2015. His untimely passing was a significant loss to the hip-hop community, but his music and influence continue to live on.

Q: How many kids did Koopsta Knicca have?

A: Information about Koopsta Knicca's personal life, including the number of children he had, is not widely available. He was known to keep his personal life private.

Q: What does Koopsta Knicca mean?

A: Koopsta Knicca was the stage name of Robert Cooper Phillips. While the exact meaning behind the name isn't publicly known, it's common for artists to choose unique and memorable stage names that reflect their persona or artistic identity.

Q: What is Koopsta Knicca's birthday?

A: Koopsta Knicca was born on April 27, 1975. His birthplace, Memphis, Tennessee, played a significant role in shaping his musical style and career.
Explore Memphis rap further in our collection detailing the city and its music.
---